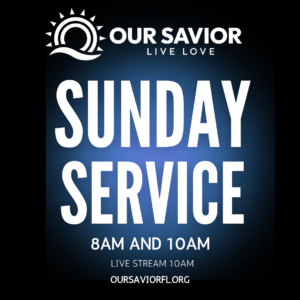 Weekly Worship: Live Streamed Sunday Mornings @ 10 am
Sunday morning worship services will live stream on Sundays at 10 am on the Our Savior Facebook page (https://www.facebook.com/OurSaviorFL) and will subsequently be posted on our website (oursaviorfl.org). The service will include songs, a message and prayers. Please like our Facebook page and share with others.
Did you know that you can share the live stream service with your Facebook friends? While watching the video, simply click the 'Share' button, and select the option that says, 'Start a Watch Party.' Then press the 'Start' button. This is a great opportunity to reach out to our neighbors with Living Love!